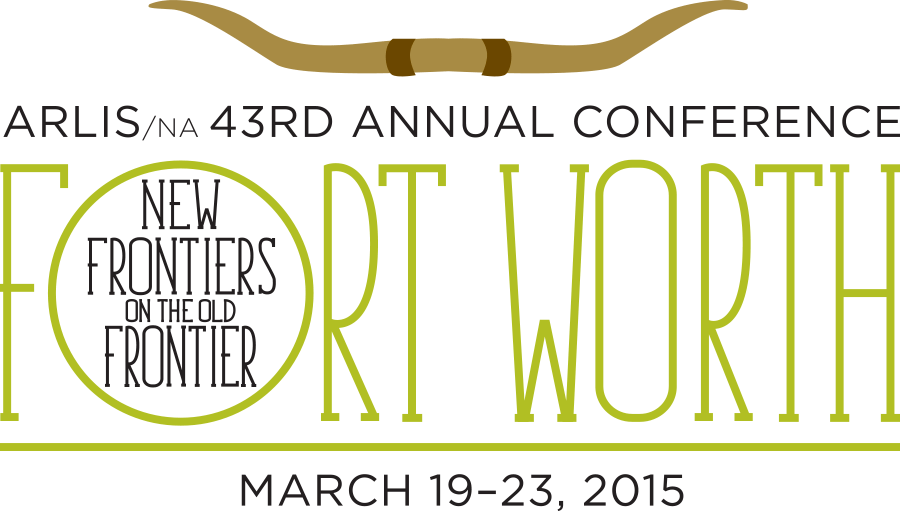 About a month ago–has it really been that long already?–I made the trek down to Fort Worth, TX, with about 500 colleagues to attend the annual conference of the Art Libraries Society of North America (ARLIS/NA). As the conference title, "New Frontiers on the Old Frontier," suggests, these historic and often quaint environs played host to some very future-focused people and projects. Digital humanities, linked open data,  and user-responsive systems design topics, as seen specifically through the art librarian's eyes, permeated sessions, discussions, and spontaneous meetings throughout the program. At the same time, there was a strong current of big, multi-institutional projects that benefit from this rare opportunity for digitally networked partners and stakeholders to come together and plan their communal next moves as only face-to-face meetings can enable.
I was in Fort Worth specifically to share updates on my NDSR work at a web archiving collaborations panel organized by my mentor and NYARC's program coordinator, Sumitra Duncan. Judging from the attendance to this session–about 50–and the tendency of web archiving to pop up as an issue at other meetings throughout the program, the topic really has gone mainstream and touched the imaginations of librarians throughout the community. Still, National Gallery of Art Reference Librarian Anne Simmons kicked off our panel with a useful intro to web archiving for the uninitiated by way of an update on the ARLIS/NA Artists Files Special Interest Group's own experiment to collect the websites of art galleries all around the country. Web Archiving Project Librarian Anna Perricci next introduced the communal collection development in areas like architecture, environmental design, and music, that she coordinates among Ivy league research libraries from their collecting hub at Columbia University. I made the case for NYARC's model of shared responsibilities and burdens in tackling some of the most persistent/laborious problems of web archive quality assurance and preservation services. Jefferson Bailey, Partner Specialist and Program Manager at Internet Archive, rounded out the panel by privileging us with a quick glimpse through his crystal ball into the future of access and researcher services for this one very peculiar archival medium. Among the most salient points that the panelists raised to my interests were Anna's experience that shared responsibilities do not necessarily make these types of projects any faster or cheaper (rather quite often the opposite can happen) and Jefferson's observation that sharing accessions and even description tasks among institutions has not yet led us to a truly shared information infrastructure at the back end.
To that point, and as something of an archivist who frequently masquerades as a librarian, I was happy to represent and to see others promote the importance of long-term sustainability to the access-driven data linking projects that our institutions proliferate. Linked open data and web-based digital humanities projects are often very resource intensive to get off of the ground, so I don't have to tell the people reading this blog that it's never too early to think a little about the long-term in order to mitigate the risks that those costs are sunk. I couldn't even shake this same feeling while enjoying our keynote convocation address by Mari Carmen Ramírez, the Curator of Latin American Art and Director of the International Center for the Arts of the Americas at the Museum of Fine Arts, Houston. Her address and much of the curatorial work around which it revolved confronted both the changing representation of Latin America in art spheres as well as specifically in its documentation; a meandering and slowly evolving conversation that requires uninterrupted access to evermore artists files, art museum archives, and printed publications than we may have ever anticipated.
I'll admit that I was pretty ignorant of Fort Worth's own artistic landscape, outside of the world famous Kimbell Museum, before I got to town. When the few opportunities between session commitments arose, though, it really delivered! Both the nearby botanic and water gardens were open to attendee tours, and, in addition to the Kimbell, the arts district includes the fascinating Amon Carter Museum of American Art and the Modern Art Museum of Fort Worth. Word to the wise, however, when in Fort Worth definitely make it your business to stop by the very fun and inspirational National Cowgirl Hall of Fame and Museum!
Fun as it was to turn a corner and be greeted by a Philip Johnson or Tadao Ando, I probably looked forward the most to closing out our conference with a party at Renzo Piano's recent addition to the Kimbell. While the new pavilion bears the architect's name–an unusual deference to designer over donor to see even at a museum–the whole space did in fact strike me as a tasteful modernist reflection of rather than competitor to Louis Kahn's now iconic design for the original space.
Then, somewhere near the opposite end of the aesthetic spectrum, there is the Hattie May Inn. To avoid the claustrophobia-inducing corporate conference hotel (and to save a few bucks at the same time) I booked a stay at this Queen Anne era bed and breakfast and somewhat notorious piece of Fort Worth history–a 1917 armed robbery-turned-murder is said to the be the source of the Inn's ghosts! Unfortunately, and eventhough I shared the building for one night with a team of actual ghost hunters, I can't report any sightings. What I can say is that co-owner and New York transplant Laura's complimentary and daily vegetarian/vegan breakfasts were the not-so-secret highlight of the entire trip.
Well, that and appearing on LibrarianWardrobe, at least…
All images CC BY-NC-SA 3.0 unless otherwise indicated.