Last Thursday (my 25th birthday, it so happens!), I hosted a meeting of assorted metadata experts, archivists, librarians, and conservators at the Museum of Modern Art. The goal of this meeting was to elicit feedback from the gathered participants as to the direction in which my project was headed. It was a great opportunity to share my ideas with experts who have experienced similar issues to those we are trying to solve here at MoMA with my project. I found it especially necessary because metadata, if it's intended to be robust and sustainable, is a hugely collaborative process. You need to listen to voices other than your own when designing a metadata implementation, as it can be so easy to lose sight of the forest for the trees when you're deep in the nitty gritty of standards and XML. Although we have not yet come to a final decision as to what standard(s) will be used to describe process history, we received fantastic insights, questions, and ideas from the participants that will aid us hugely when making our final decision.
In this post, I've included the slides for my presentation. These detail the standards we have selected as contenders for filling the gap in our metadata implementation, as well as the pros and cons of each standard from the perspective of our needs. The slides also give an idea of the workflows we are considering for ingesting the metadata into our digital repository. We have only just begun to discuss this stage of the project, but in the coming weeks I will be diving into developing those rudimentary workflows into ideas that will have a large impact on the final form of our metadata implementation. Until then, have a look at some of the findings of my project, and if you have any insights to offer or questions, I'd love to hear them.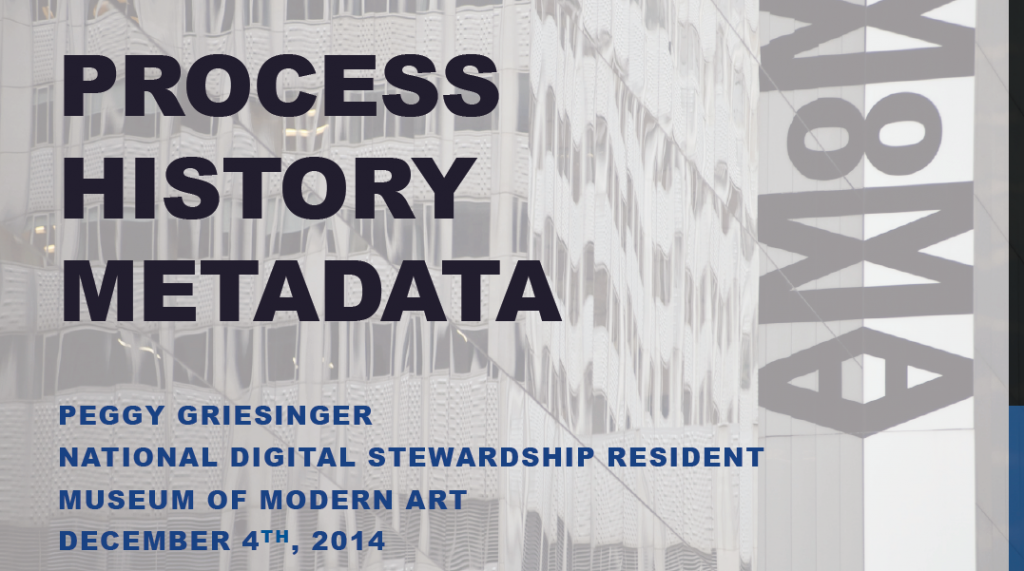 Click here to download the presentation.
I'd also like to note that this presentation served as my "enrichment session" for the NDSR program. Each resident is given the opportunity to organize an event at their host institution that allows them to share information about their project or the skills they've picked up while working on it. All the other residents and mentors are invited, so it's a great opportunity to exchange knowledge and discuss ideas with people working on related projects. Look out for posts about the other residents' enrichment sessions in the coming months.